Gath Sports is proud to introduce in the International Team thee 10 times World Champion and Guinness World record Gisela Pulido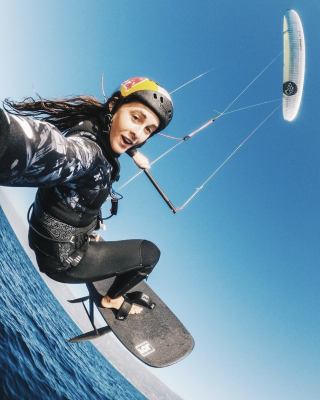 Gisela Pulido, the youngest kitesurfing world champion, knows just how lucky she was to get sponsored on her first day, and is very grateful to have had support ever since.
Gisela Pulido is the youngest world champion in the history of kitesurfing. From a young age, Gisela showed an acute interest in all things related to the sea and sports with an element of risk – something she inherited from her father. Gisela's breakthrough came in 2004, when she was crowned KPWT world champion – a feat she has repeated nine times. 2006 also proved to be a remarkable year for the young Spanish kiteboarder. With a number of sporting accolades under her belt, Gisela attracted a host of sponsors, topping the season off with a win at the Spanish Championship. She raised the bar yet again when she entered the Guinness World Records as the Youngest World Champion, aged just 13. Internationally recognized for her sport and her astounding abilities at such a young age, Gisela really is the sporting prodigy of her time. Even between juggling her hectic career, media attention and essential studies, she still found the time to open her own kitesurfing school in Tarifa – Spanish Kite Boarding Paradise – in 2009. Since then, Gisela's winning streak remains.